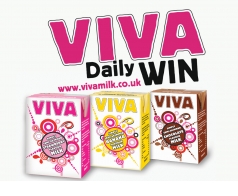 A Staffordshire school is the big winner for September in Pritchitts Viva Daily Win monthly bonus.
NCHS The Science College in Newcastle-under-Lyme has scooped £200 worth of school equipment vouchers by registering the most monthly entries in Pritchitts nationwide promotion, Viva Daily Win, the biggest in the education sector.
Tracey Moynihan, School Catering Manager, expressed her delight at the win: "It feels great. I'm so proud of the pupils for going out of their way to enter the competition and I'm glad they have. We advertise Viva Daily Win around the school and I'm delighted the pupils have picked up on it. The £200 worth of school equipment will be much appreciated."
Now in its fourth year Viva Daily Win offers pupils aged 12-18 the chance to win an iPod shuffle every school day until December 20th 2013, simply by going to www.vivamilk.co.uk and entering the code found on their carton of Pritchitts Viva Flavoured Milk. New for 2013, the monthly £200 bonus has been introduced to reward schools with the most entries and is up for grabs every month throughout term time.
Simon Muschamp, Head of Marketing at Pritchitts, said: "Many congratulations to NCHS and to Tracey. We're delighted they're making full use of our promotional posters to make their school our Viva Daily Win monthly winner for September. Students have until 20th December to enter. We urge other schools to take full advantage and help drive uptake and it could be your school that recieves an unexpected bonus."
Schools can boost their chances of scooping the monthly bonus by stocking up on Viva Flavoured Milk and requesting their high impact FREE promotional material, including eye-catching posters and fridge wobblers. A3 posters are available to download at www.vivamilk.co.uk , while A2 posters and wobblers can also be requested.
Viva Milk – the leading flavoured milk brand in the education sector – is the easy way to get secondary school students to drink more milk; it complies with school guidelines, contains no artificial colours, sweeteners or preservatives and comes in three flavours, strawberry, banana and chocolate.
For more information or to request your free poster, please call 0208 290 7020, email vivadailywin@pritchitts.com or visit www.vivamilk.co.uk