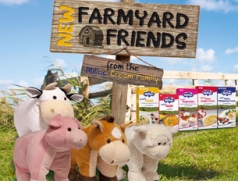 Pritchitts' popular snip and save scheme – Millac Farmyard Friends – is back and bigger than last year with a new farmyard pillow range to collect.
Starting the 1st March 2015, Pritchitts' entire Millac Cream Family will be part of the promotion making it even easier for caterers to claim their Farmyard Friend Pillow. Caterers simply need to snip and save 24 bottom coded pack corners from Millac Gold Double, Millac Gold Single, Millac Roselle Supreme, Millac Dairy Single Cream or Millac Dairy Whipping Cream and send them – along with a completed claim form – to the FREEPOST address available at www.pritchitts.com/farmyard-friends, before the 30th June 2015.
Simon Muschamp, Head of Marketing comments:
"We had a phenomenal response to last year's Farmyard Friends which is a nod to our farming heritage. Nearly 160 caterers got involved and over the six-month period a staggering 518 cuddly toys were posted.  This year we wanted to reward even more caterers who have discovered the benefits of our Millac Cream Family and with a Lamb, Cow, Pig and Horse pillow to collect, start saving your pack corners now to complete the set."
Whether you need cream for whipping, cooking or pouring; the Millac Range is more than just cream and offers an ideal solution for professionals who demand value for money, as well as a cream product that's easy to work with and stays stable when the pressure is on. The Millac Cream Family also has a long ambient shelf life, helping to save valuable refrigeration space and reduce waste – key challenges faced by commercial kitchens.
Pritchitts is the foodservice division of Lakeland Dairies, one of the largest farmer-owned dairy co-operatives in Ireland. On a daily basis quality milk is collected from over 2100 farms, where cows graze on lush green pastures in a fifteen county catchment area within the island of Ireland.