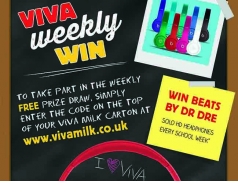 Following the success of Viva Daily Win, which in five years had grown to become the education sector's biggest annual promotion, new Viva Weekly Win will reward pupils who drink Viva Flavoured Milk with the chance of winning an even bigger and better prize – Beats by Dr. Dre Solo HD Headphones – every school week, from 5th May to 18th December 2015.
Entering the competition is quick and easy; pupils simply need to purchase any of Viva's three flavoured milks – strawberry, banana and chocolate – and enter the code found on their carton at www.vivamilk.co.uk. The more cartons of Viva Flavoured Milk they buy, the more entries can be made and the more chances they have of winning.
Simon Muschamp, Head of Marketing at Pritchitts, comments: "Schools experienced a real uplift in Viva Flavoured Milk sales off the back of Viva Daily Win, but we're not a company to rest on our laurels and wanted to give pupils an even bigger and better reason to get involved in our sixth year of supporting the education sector and getting students to drink more milk. "New Viva Weekly Win is a great way to interact with students and remind them of the benefits of drinking milk, while rewarding them with a higher value and highly desirable prize that is a must-have item for all youngsters today. We anticipate the uptake of this year's Viva Weekly Win to be even more positive, so we are encouraging caterers to request their POS kits now."
To raise awareness and encourage pupils to take part in the promotion Pritchitts has created a high impact point-of-sale kit which includes eye-catching A2 posters and fridge wobblers. Available free of charge to all participating schools, the kits are a great way to get cafeterias buzzing. Caterers eager to start promoting Viva Weekly Win straight away, can also download colourful A3 and A4 posters from www.vivamilk.co.uk.
Furthermore, Pritchitts is urging caterers to ensure they are adequately stocked up on Viva Flavoured Milk in order to meet the increased demand that the promotion will create for the leading flavoured milk brand. Viva Flavoured Milk is the easy way to get secondary school students to drink more milk; it complies with school guidelines, contains no artificial colours, sweeteners or preservatives and comes in three flavours, strawberry, banana and chocolate. Viva Flavoured Milk also contains extra vitamin D which is great for bones and helps children absorb calcium.
Viva Weekly Win is open to pupils aged 12–18 only.
For more information or to request your Point-Of-Sale kit please call 0208 290 7020,  or email www.vivamilk.co.uk