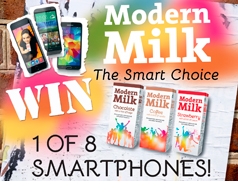 2015 sees the return of Pritchitts' Smart Choice promotion; the giveaway that rewards Modern Milk fans with the chance of winning a smartphone of their choice worth £550!
Starting the 19th January 2015, caterers are encouraged to stock up now on the flavoured milk range and claim their FREE Smart Choice point-of-sale kit – containing eye-catching posters, wobblers and cards – by calling 020 8290 7020, to tell their customers about the must-win giveaway. 
To get involved consumers will simply need to grab a carton of their favourite Modern Milk – Chocolate with a Hint of Fudge, Coffee with a Hint of Vanilla or Strawberry with a Hint of Cream – and tweet a selfie to @ModernMilk using the hashtag #ModernMilk. There are eight smartphones to be won, so the more selfies individuals post between the 19th January and 13th March 2015, the more chances they'll have of winning in the mega tech draw.
Simon Muschamp, Head of Marketing, Pritchitts, says; "As a soft drink, Modern Milk has proven to be a hero for foodservice. As a nation we are increasingly avoiding fizzy drinks and looking for healthier options; Modern Milk's great natural flavour, goodness of semi-skimmed milk and added Vitamin D has made it a smart choice for people looking for a healthy filling snack on-the-go, and now with the chance to win a smartphone, they have even more reason to buy Modern Milk!"
The new campaign means there is significant money making potential available to caterers; in fact a 1,000 consumer taste-test revealed a staggering 95% of people liked the new flavoured milk range and a further 84% said they would purchase the bone boosting soft drink option again.
Simon adds; "People want and love Modern Milk, but we're not a supplier that rests on its laurels. Throughout 2015 we'll be supporting the range with high impact campaigns including the Smart Choice promotion, nationwide sampling and ongoing engagement through social media –  so we're encouraging caterers to contact their wholesaler and stock up so as not to miss out. " 
Available in Brakes, 3663 through TUCO, as well as regional wholesalers; Modern Milk is hassle free with a long ambient shelf life, but is best served chilled and enjoyed straight from the fridge. It comes in a 330ml fully-recyclable carton with a straw, making it ideal for vending machines and for drinking on-the-go.
Modern Milk has a shelf-life of seven months and is available in 27 x 330ml trays.
Pritchitts is the foodservice division of Lakeland Dairies, one of the largest farmer-owned dairy co-operatives in Ireland. Lakeland Dairies collects its fresh milk daily from over 2,100 family farms, operating within a fifteen county catchment area within the island of Ireland.
To find out more about Modern Milk please call 020 8290 7020
Follow on Twitter https://twitter.com/ModernMilk
Like them on Facebook www.facebook.com/ModernMilk