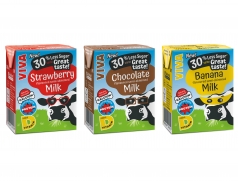 Dairy specialists Lakeland Dairies has reduced the sugar in its bestselling VIVA Flavoured Milk range to help schools stay ahead when it comes to menu planning.
With 30% less sugar than the average other flavoured milks, VIVA now has less of what pupils don't need, but still delivers the same great taste that has made it the number one in schools. This new and improved range has been given the thumbs up by pupils for overall taste and flavour in independent research . Rigorous taste tests with children aged 10-16 years, revealed that – despite less sugar – kids couldn't tell the difference from the old recipe and still loved VIVA Flavoured Milks*
Commenting on the new range and insight, Paul Chmielewski, Head of Marketing and International, Lakeland Dairies, says:
"We're deeply committed to education and that means always looking at ways to improve our popular school friendly products. Our previous product already met PHE guidelines, this new development goes even further. With the seal of approval from pupils, our valued education customers can be assured that students will love the great taste of the new VIVA range."
The research also delved into what are the key health benefits pupils look for when buying flavoured milk. The survey showed a staggering 87% of pupils say calcium is important or very important to them when purchasing, 77% look for less sugar and 64% favour protein in their drinks.
Despite this, an alarming 11% of boys and 22% of girls aged 11 to 18 have an extremely low calcium intake meaning just over a fifth of girls don't get enough calcium to support their development. With calcium vital in the growth of healthy bones – and around 90% of the adult skeleton formed by the age of 18 – milk matters in children's diets.**
Paul adds;
"Though our research shows that pupils understand the importance of calcium in their diet, they simply aren't consuming what they need. Lakeland Dairies Foodservice has been on a mission to encourage pupils to drink more milk for many years. Just 200ml of VIVA Flavoured milk contains 28% of the recommended daily intake of calcium and 15% of protein. We've improved communications on pack so pupils can make an informed purchase."

"We also add Vitamin D, which plays an important role in helping the body absorb calcium from milk and develop strong, healthy bones. This and the fact VIVA now has less sugar, makes it the wholesome and nutritious flavoured milk choice for schools."
Available in strawberry, banana and chocolate, VIVA Flavoured Milk is made from semi-skimmed milk straight from the Irish co-operative's own dairy farms, making it fully traceable. With added vitamin D to keep bones strong, VIVA is also low in fat, gluten free and suitable for vegetarians. The number one flavoured milk is best served chilled but can be stored ambient until it is needed, which means caterers have the added benefit of hassle-free storage, no waste and is 100% recyclable.
Following the move from plastic to paper straws earlier this year, this latest update to the VIVA Flavoured Milk range is part of the dairy specialist's ongoing commitment to providing customers with responsible products, that are sustainably sourced and easily recycled.
*Versus the old recipe **National Diet and Nutrition Survey 2018