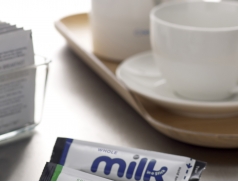 From February, the new 240 box is being introduced to suit smaller operators looking to offer a high quality, ambient milk portion to support their hot beverage service with minimal storage footprint.
Available in both whole and semi-skimmed, fully traceable, 100% farm assured milk, Milk in a Stick is the ideal hygienic format for out-of-home. Developed to be not only strong and flexible for ease of transportation and storage, but also easy to open and pour.
Simon Muschamp, Head of Marketing at Lakeland Dairies explains;
"We listen to our valued customers and develop products that combat the challenges of offering a hot beverage service - be it on-the-go or part of an in-room service. Our milk sachets offer a convenient milk option, without the hassle or wastage associated with fresh milk, but most significantly helps save space thanks to its slim line design.
"We're delighted with the positive feedback we've had from the travel sector and to be able to meet the demand from general wholesalers and sectors outside of travel, we've developed a smaller, more accessible box that can be stored ambient."
Lakeland Dairies has supplied the foodservice industry with its comprehensive quality milk portions range for over fifty years. As the trusted market leader, the dairy experts have a range of category formats including Millac Maid Mini Pots, Lakeland Dairies Mini Pots, as well as Milk in a Stick.
Lakeland Dairies – which includes foodservice division Pritchitts – is one of Ireland's largest farmer owned dairy co-operatives with over 120 years of heritage. Their cows graze on lush, green pastures producing high quality milk, which is collected from over 2,400 family farms on a daily basis. Producing a wide range of dairy products, Lakeland Dairies supplies customers in over 70 countries worldwide.
To find out more visit www.pritchitts.com/blackandwhite