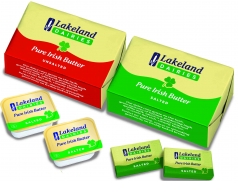 Lakeland Dairies recently launched its new design packaging for 250g butter.  Moving away from traditional parchment to high quality gold foil, the design is bright and modern, clearly communicating the brand's Irish heritage with a distinct shamrock on pack.
The 250g butter, which is available in cartons of 20 and 40, is colour referenced with green for salted butter and red for unsalted butter.
The new design was introduced across 250g packs in December and will roll out to the size 7 foil portions around April 2015.
Pritchitts head of marketing, Simon Muschamp said, 'Butter is an increasingly important category for us. The new foil design clearly communicates the premium quality of our rich, creamy Irish Butter which is made from fresh milk collected from our dairy farms on a daily basis.'