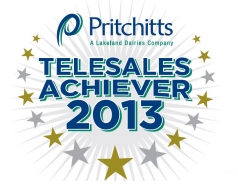 The three finalists have been unveiled in Pritchitts 2013 Telesales Achiever award – the search for the very best operatives in the British and Irish foodservice industries. 
Ashley Bull from 3663 in Abingdon, Debbie Cooper from Deeside's Woodward Foodservice and Clare Sharkey from Brakes in Runcorn have emerged from hundreds of candidates in the competition which is marking its 15th year in 2013. The trio had to come through a three-tiered assessment, culminating in a stringent independent evaluation taking in a host of factors including: call management, relationships, communication skills, product knowledge and closing. The winner will collect the trophy and a £1000 prize during the FWD Gold Medal Awards gala dinner at London's HAC Royal Artillery Gardens on November 28th, 2013.  
Simon Muschamp, Head of Marketing at Pritchitts, said: "Our congratulations to Debbie, Clare and Ashley on proving themselves the three highest achievers for 2013. The telesales role has never been more important in developing relationships with customers and maximising day to day trading, we know how hard these often unsung heroes work at doing this."
Pritchitts Telesales Achiever is comprised of three rounds – the first is a paper-base questionnaire which tests a candidate's knowledge of both Pritchitts products and telesales marketing in general.
Round two sees eighteen candidates go through to a telephone interview before three finalists are chosen to face the independent assessor.     
Simon adds: "The independent assessment is extremely thorough, and these three candidates shone through. The assessor was suitably impressed by their professionalism, dedication and skill – we now look forward to November where we will crown our 15th telesales achiever."