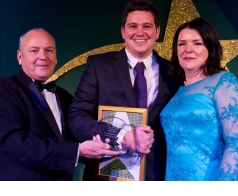 David Carrack, Executive Head Chef of Harrogate Grammar School, was crowned 'Newcomer of the Year 2013' at the  EDUcatering Excelllence Awards held at the Royal Garden Hotel, London.
The EDUcatering Excellence Award is the prestigious accolade for top achievers in the UK's  school meal industry. The award ceremony held on 14th October, brought together over 350 of the catering elite to pay tribute to individuals for their unstinted dedication.
Pritchitts was proud to sponsor the category of 'Newcomer of the Year' which is open to new employees at any level, who have worked for their present employer for less than a year.  The category recognises individuals who have shown outstanding commitment to their new role and enhanced the performance of the school meal provision.
David is pictured receiving his award from Brian Kyle, Head of UK Foodservice at Pritchitts and Jane Renton, Editorial Director of H20